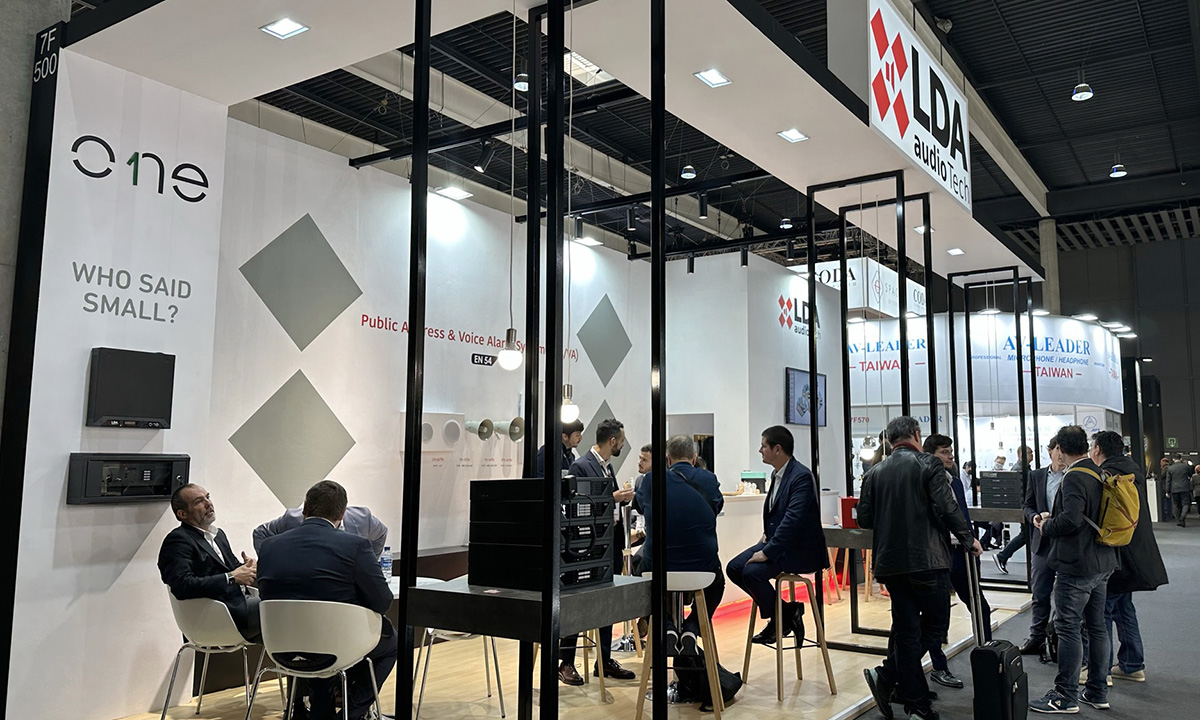 06 Feb

ISE 2023: LDA shows its new speakers and upgrades for NEO and ONE

The latest edition of Integrated Systems Europe (ISE) has been confirmed as the best in recent years for LDA Audio Tech, returning to full normality after the pandemic and repeating the venue in Barcelona.

More than 1,000 exhibitors and 58,000 attendees from 155 countries came together at the world's largest systems integration show. LDA's stand F500, in hall 7 dedicated to the audio industry, was visited by many professionals interested in its technology.

ISE was a great showcase for the brand's latest news in EN54-certified public address and voice evacuation systems. With a revamped stand with a new design and clean lines, LDA presented its next releases planned for 2023.

Integrators, distributors, manufacturers, established partners and new customers have been part of the continuous affluence that LDA has registered during the four days of the fair in Barcelona.

LDA was accompanied by Gräf & Meyer, the main partner in Central Europe, which operates as the LDA Audio Tech office for Germany, Luxembourg, the Netherlands, Belgium, Austria and Switzerland. At the fair, they took the opportunity to present their new fire panel, developed together with LDA to comply with German regulations.

Detnov, a specialist in fire detection systems and LDA's partner in the Atalaia Alliance initiative, also had a place on the stand to present its VESTA analogue fire detection panel.
NEW LDA SPEAKERS 2023
This year sees the launch of the new EN 54-24 certified loudspeakers, which have been designed to meet the requirements of customers around the world for their public address and evacuation installations.
Two ceiling loudspeakers, two exponential horns and three directive columns complete the LDA range with new designs and features:
SIME V3
The ISE booth also included a new version of the SIME integration platform, which is used to configure and manage the EN54 systems manufactured by LDA. In its upcoming version 3, the application will offer new menus, icons and interfaces that can be customised for each customer.
SIME v3 will offer a configuration mode with administrator privileges that will allow new equipment to be added and modified along with fonts and zones. It will also integrate with third-party systems using different protocols (SNMP, UDP, OPC, MODBUS…) and will be able to perform remote maintenance tasks via the cloud.
NEO AND ONE KEEP IMPROVING
Both NEO and ONE will evolve in 2023 towards more flexible and robust systems thanks to the incorporation of new functionalities developed by LDA's R&D&I department.
NEO+, a new generation of the EN 54-certified, high-performance NEO public address and voice evacuation system for medium and large format projects, will arrive this year.
Using a new ETX module, NEO+ will be open to AES67 layer 3 audio-over-IP technology for transmission and reception (Tx/Rx). AES67 is an open protocol that can be used freely and increases the possibilities for integration between systems and communication with third-party technologies in complex installations.
NEO+ will add user authentication for remote login and monitoring of active system connections and will be backwards compatible with previous versions by simply changing the ETX module card.
The ONE system, meanwhile, will be revamped inside and out in 2023. A new removable plate will be added to the rear, making it easier to service and connect to accessories. On the front, the unit's display will allow customised languages.
ONE will update the ACSI v2 protocol for future devices and add a new PTT input with supervision.
Both NEO and ONE will become more versatile in 2023 when the cloud-based central monitoring ecosystem for LDA's EN54 systems is deployed. This will make it possible to configure the systems, support them via the internet, securely audit access with an audit trail and monitor their status and integrity.
This ecosystem will consist of three modules: a secure appliance for connecting systems to the cloud, software for monitoring and controlling local LDA systems, and an administrative function for users and systems.
ISE is LDA Audio Tech's second major international exhibition in 2023, following its participation at Intersec Dubai. LDA Audio Tech will return to ISE in 2024 with a new stand in hall 7.