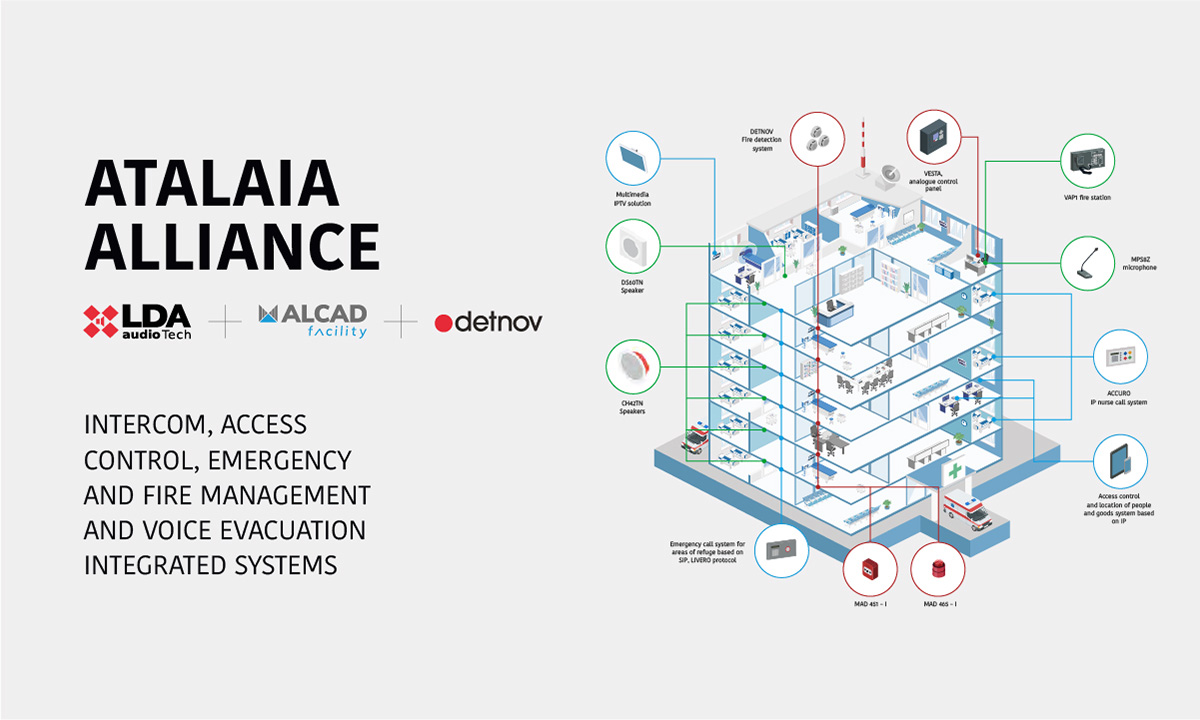 25 Oct

Atalaia Alliance, a new integrated security platform

We have joined forces with Detnov and ALCAD Facility to create Atalaia Alliance, a new platform for access control, fire and emergency management, and evacuation.

This integration offers the advantage of having a unified and state-of-the-art system that guarantees safety in any installation while complying with current regulations on detection, control, and evacuation.

Atalaia Alliance products are backed by the development experience of these three Spanish companies, which have been working on R&D&i for decades to incorporate all the functions demanded by the market and thus comply with European and international quality and safety standards. 

An integrated Atalaia Alliance system covers the entire security management of any building from start to finish, from emergency detection to incident identification and controlled evacuation to prevent personal injury.

With Atalaia Alliance, the compatibility and interconnectivity of all systems are guaranteed, while the design, installation, and maintenance work is very easy, optimizing time and costs for engineers and integrators.[/vc_column_text]

Download Atalaia Alliance Brochure

A typical venue equipped with Atalaia Alliance will have:
LDA Audio Tech public address, background music, and voice evacuation systems, EN-54 certified, compact, all-in-one, and scalable to adapt to the size and complexity of each installation. Such is the case with NEO, very adaptative to medium and large installations, or ONE, so easy to install and configure in any environment.

Detnov fire detection systems, also EN-54 certified, with a comprehensive range suitable for all types of installation and connectivity for monitoring and remote control in real time.

ALCAD Facility systems for intercommunication, call-nursing, location, access control, and IPTV for critical communication and multimedia entertainment environments.
The flexibility of these solutions to adapt to the specific requirements of each project is such that the integrated system can be designed from scratch. Thus, Atalaia Alliance has all the equipment you need to cover every aspect of security management: IPTV multimedia solutions, IP communication, fireman's panels, microphones, loudspeakers, emergency calls, warnings, fire detection, and alarm, phased evacuation, remote control, and management, etc.
The collaboration allows these companies to face large-scale projects with guarantees, such as shopping centers, office towers, corporate buildings, universities, hotels, hospitals, residences, industrial parks, warehouses and logistics centers, airports, ports, and train stations.
All Atalaia Alliance systems are certified according to the most demanding international standards, such as EN-54 or ISO 9001.
Three innovative brands
Behind Atalaia Alliance are three security top Spanish companies, with young teams focused on innovation, development, and research of new products.

LDA Audio Tech is one of the world's leading providers of sound solutions for voice alarm systems and active protection in buildings. It designs, develops, and manufactures audio systems that are easily integrated into all types of venues and its technology is installed in facilities around the world.

Detnov is specialized in the development and manufacture of fire detection systems. With a presence in more than 55 countries and a global approach, it is committed to new technologies, seeking ease of installation and start-up, as well as improvement in the provision of maintenance services.

ALCAD Facility is a leading manufacturer specialized in critical communications and multimedia solutions designed to contribute to the well-being of people in hospitals, hotels, residences, shopping centers, and other non-residential buildings. It has more than 30 years of experience in the market in more than 60 countries on 5 continents.

All three companies offer comprehensive support and consulting service to their clients to guide them throughout the entire process of an installation, from its initial planning to after-sales support and maintenance.

[/vc_column][/vc_row]