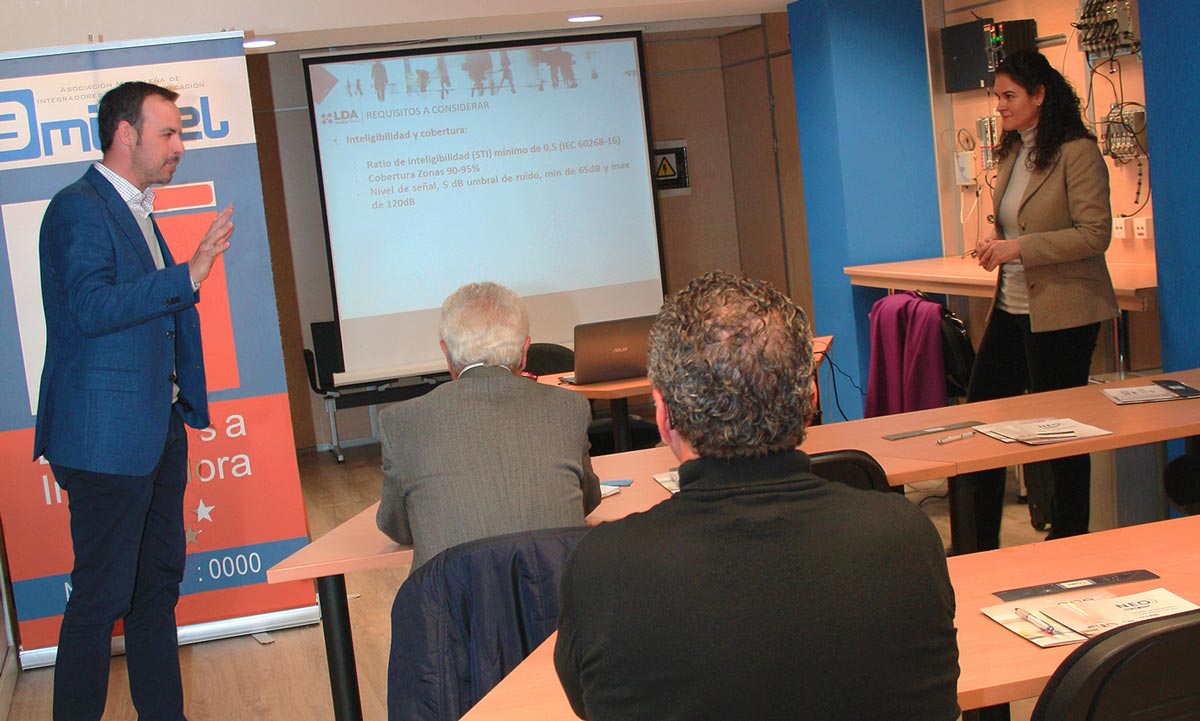 06 Mar

Workshop for integrators about EN 54 PA/VA systems

LDA Audio Tech delivered a new training day on EN 54 ceritified public address and voice alarm systems for telecommunication integrators, focused on technical issues and compliance with international standards.

The seminar was held at the Madrid headquarters of Amiitel, a Spanish integrators association, and was attended by professionals interested in fire detection, alarm and active protection systems, in particular those using public address in emergencies.

LDA Audio Tech Spain Sales Manager Celia García and Business Development Manager Luis Rada were responsible for providing this specialized training. They addressed those aspects of the EN 54 international standard affecting the Spanish market and different venues according to their characteristics.
International standard EN 54
The Facilities Regulation for Fire Protection (RIPCI) and the Industrial Facilities Regulation for Fire Protection (RSCIEI) are the rules that establish requirements for each project in Spain.
Celia García and Luis Rada also offered a general overview of the range of advanced services for telecommunications integrators offered by LDA Audio Tech, such as EN 54-16 certified public address and voice evacuation systems, EN 54-24 certified speakers, EN 54-4 power supply solutions and consultancy, installation and after-sales services for integrators.
NEO and ONE, certified PA/VA systems
The LDA NEO system offers a complete EN 54-16 public address and voice evacuation solution thanks to its compact and all-in-one central unit, easily scalable with extensions and a wide range of accessories and speakers.
For its part, the new LDA ONE system goes one step further by offering EN 54-4 built-in battery charger, Wall & Rack design for wall or rack installation and ease of use and maintenance that make it the most cost-effective and compact PA/VA system on the market.
LDA Audio Tech teams up with industry organizations such as Amiitel, offering them specialized and continuous training for professionals on audio systems and installations. Amiitel is one of the most important ones in the Spanish field, with more than 40 years of experience working for telecommunications integrators.