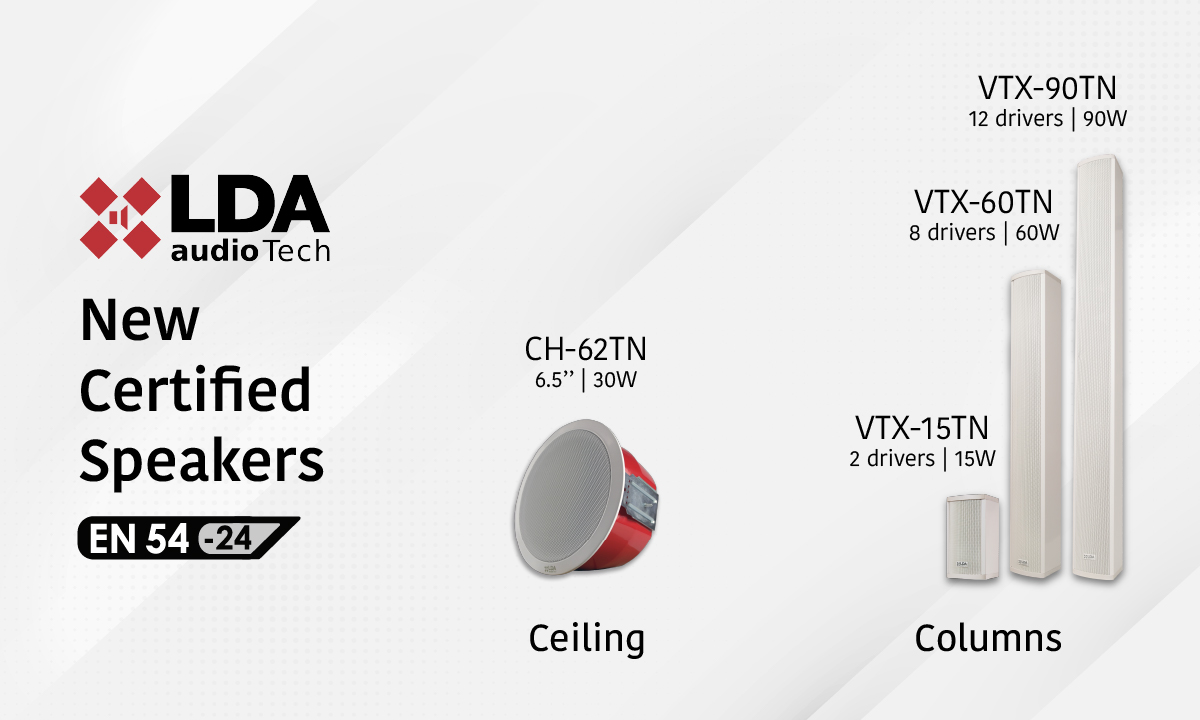 03 Jul

First batch of LDA EN54-24 certified loudspeakers for 2023

LDA Audio Tech's new VTX series of directive columns and the CH-62TN 30 W ceiling loudspeaker have now successfully completed the EN 54-24 certification process.

These models are part of the product launches planned by LDA for 2023 and are already available in stock.

The notified body Applus+ has issued the certificates stating that the CH-62, VTX-15TN, VTX-60TN, and VTX-90TN models have passed all tests and are fully compliant with the EN 54-24 standard for loudspeakers for voice alarm systems.
VTX Directive Columns
The new VTX series directive columns are three high-performance 15, 60, and 90 W speakers. Featuring a minimalist design with clean, straight lines, the VTX-15TN, VTX-60TN, and VTX-90TN models can be integrated into all types of architectural spaces. They are suitable for indoor and outdoor use.
Their high directivity, achieved by acoustic engineering applied to the loudspeaker layout, allows the sound beam to be directed toward the audience area. This results in very good intelligibility levels in acoustically demanding venues.
The three columns are made of resistant aluminum, fire-protected, and have an IP54 protection rating (type B according to EN 54-24).
Model VTX-15TN
2 drivers · 15 W
Model VTX-60TN
8 drivers · 60 W
Model VTX-90TN
12 drivers · 90 W
CH-62TN Ceiling Speaker
The 30 W 2-way CH-62TN ceiling loudspeaker offers a wide frequency range, low distortion and high sound pressure level, with excellent sound and speech intelligibility.
This model features a fire dome, ceramic terminal and isolation fuse to maintain the integrity of the system in case of an evacuation. Its 30 W offers high power and quality for both music and speech.
Model CH-62TN
6.5″ · 30 W
Support and Installation
All models are very easy to install thanks to the built-in accessories.
Documentation related to these new models and all our speaker range can be downloaded from our Support website:
Support Documents for LDA Speakers
The loudspeakers will be completed during 2023 with the launch of three new models. These are a ceiling speaker and two acoustic projectors that are currently under certification.
LDA Audio Tech's range of EN 54-24 certified loudspeakers is distinguished by its wide coverage, clarity and design variety. Our directive solutions can be adapted to any difficult acoustic environment or high reverberation, achieving ideal sound pressure levels and intelligibility for a voice alarm system.