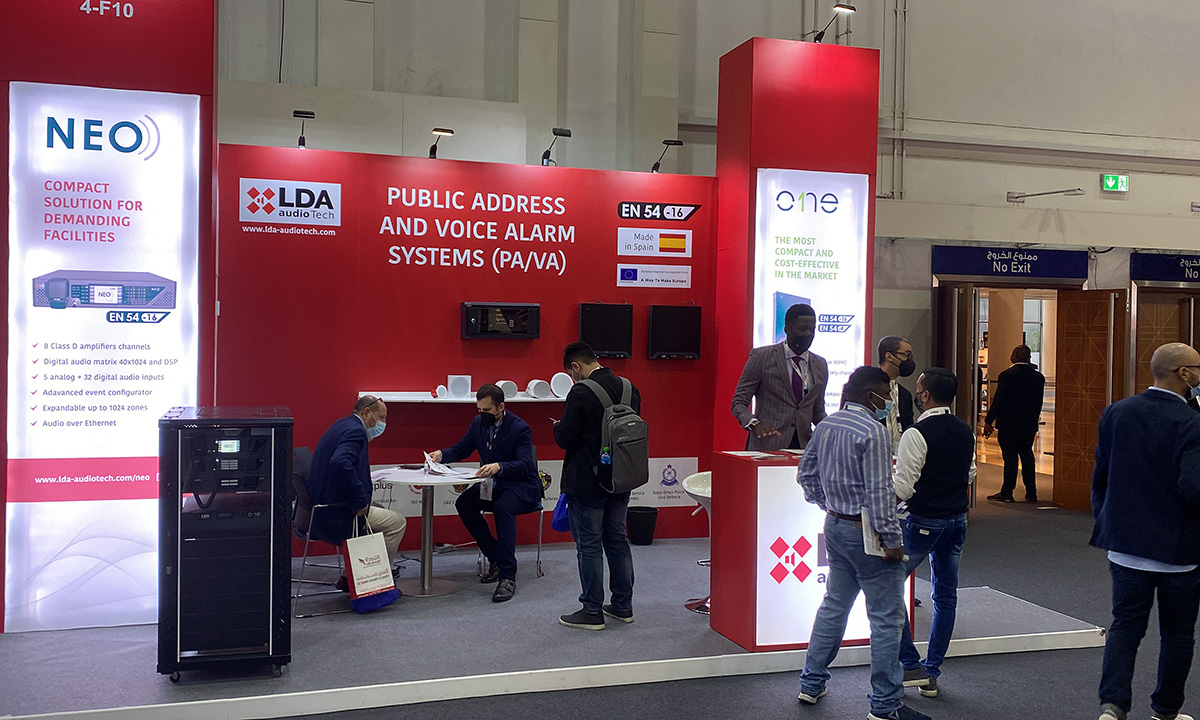 27 Jan

LDA Audio Tech meets again with Middle East clients at Intersec 2022

Longlife customers and new business contacts from Qatar, Saudi Arabia, the United Arab Emirates, Kuwait, Iraq and Iran visited the LDA Audio Tech stand at Intersec 2022, the first major international event for the security and fire evacuation sector held in Dubai.

LDA closes this professional fair with a very positive balance, thanks to the business opportunities detected and the boost of commercial relations in the Middle East, an area with a great presence of public address and voice evacuation systems manufactured by the brand.

Although registered public attendance was somewhat lower than in 2019, and the number of pavilions fell from 7 to 4 compared to the previous edition, the general atmosphere has been positive and optimistic. At Intersec 2022, the industry has shown a keen desire to return to business fairs as promising spaces for commercial relations.
NEWS AND REUNIONS
LDA Audio Tech arrived at Intersec with the aim of giving a preview of its new products for 2022.
The new NEXO level 3 AES67 native audio converter, the update of the ACSI protocol for multi-site LDA systems, the expansion of the range of EN 54-24 certified loudspeakers, and the new version of the SIME Control management platform have caught the interest of Intersec attendees who visited the LDA stand.
In addition, live demonstrations were carried out of the two ranges of EN54 certified systems manufactured by the brand in Spain: NEO and ONE. With the presence of rack and wall-mounted equipment, connected to fire panels and other accessories, visitors were able to see for themselves the advanced public address and voice alarm functions offered by these products.
The show gave the opportunity to present the Qatari company CANTECH with the LDA award for Best Integrator in the Middle East in 2021, which was collected by its Sales Manager Saheem Zia. On that occasion, the LDA Qatar team also met with other partners from the same country, such as Brothers Qatar.
Engineers from ARC Digital Solutions and Consultancy also visited the LDA booth, expressing their interest in using LDA equipment for future installations in Iraq.
Intersec has meant the return of LDA to the international arena, after the forced break in face-to-face meetings due to the coronavirus pandemic. Now the next appointments in the calendar of international fairs are widely expected:
Madrid, February 22-25 ⇒ SICUR, International Security Exhibition.
Moscow, April 12-15 ⇒ Securika, International Exhibition of Security and Fire Protection.
Barcelona, May 10-13 ⇒ ISE, Integrated Systems Europe