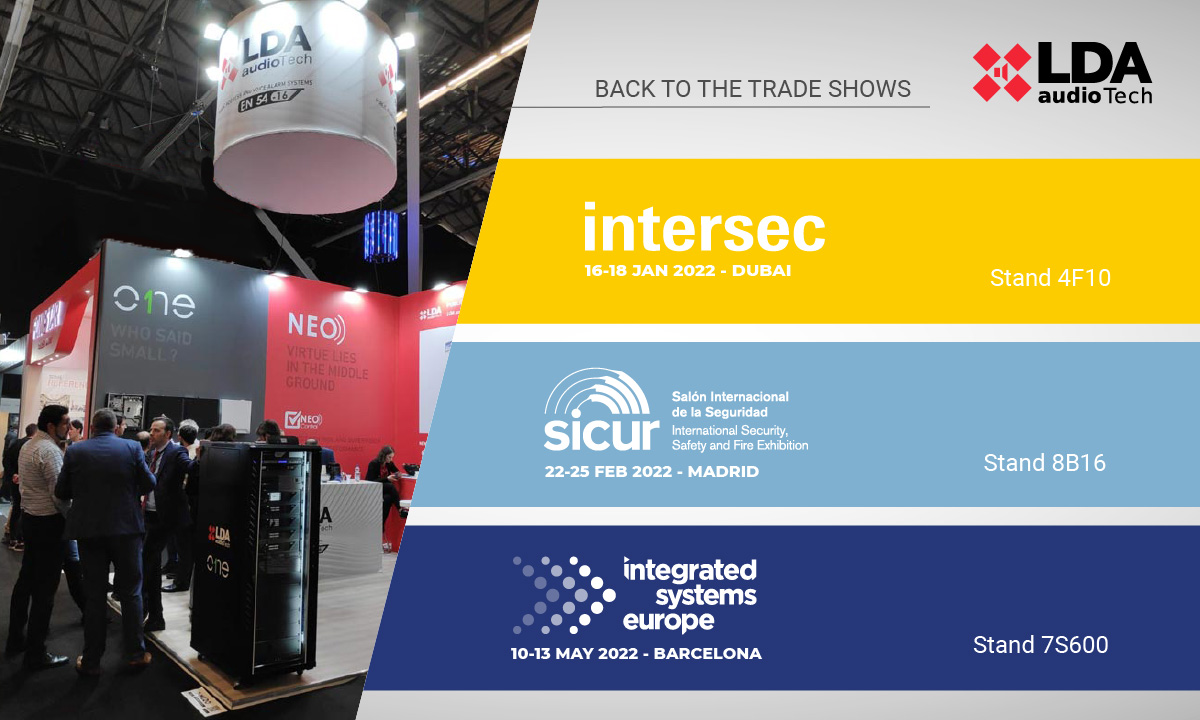 30 Nov

LDA Audio Tech makes a strong comeback to the international fair scene in 2022

LDA Audio Tech will be back into the international fair circuit to introduce its new features and reinforce its position as the leading Spanish manufacturer of EN54-certified public address and voice evacuation systems.

LDA will be present with its own space at Intersec (Dubai, stand 4-F09), SICUR (Madrid, stand 8B16) and ISE (Barcelona, ​​stand 7S600), the three major professional events for security and systems integration worldwide. It will also go to Securika in Moscow, where will share a stand with its partner Rondo Sound.

These fairs return after almost two years without being held due to the pandemic situation and are now becoming more relevant as a meeting point for the sector recovery.

In these trade shows, LDA Audio Tech will exhibit its highlights for 2022:
NEXO, a new level 3 native AES67 audio converter.
ACSI v2, an updated protocol for multi-site systems with NEO, ONE and NEXO.
Expansion of the EN 54-24 loudspeaker range.
A new version of SIME Control, a management platform for EN54 PA/VA systems.
New developments for 2022
NEXO arrives to turn NEO and ONE into the most versatile EN54 voice evacuation and public address solutions in the market. It is a new level 3 native AES67 audio converter that will provide an external control and monitoring interface for NEO and ONE, opening up its possibilities to reach large projects through easier installation and configuration.
NEXO allows you to expand the number of networked microphones with NEO and ONE from 8 to 64, and convert the audio from both those microphones and other external sources. Thanks to NEXO, LDA's EN54 solutions open up to the level 3 audio over IP ecosystem and multiply its communication capabilities with other systems and devices in complex facilities such as airports, transport networks, logistics and shopping centers, etc.
Following the same line of designing innovative products based on the advanced functionalities of EN54 systems, LDA Audio Tech will also launch version 2 of its ACSI protocol. This development provides a new way to communicate the devices that are part of a multi-site system with NEO or ONE and opens the range of applications offered by LDA solutions.
For example, integrations with customized fire panels, adapted to the regulations of each country, will be easier using fully customized control applications.
One of the first uses of the new ACSI v2 will be the design of a specific alarm panel for the German market, in which LDA Audio Tech is already working to position itself as one of the first manufacturers to carry out this development.
LDA also keeps on producing its own-brand loudspeakers in its central factory so as not to depend on other markets or suppliers. In 2022, the company will expand its range of EN 54-24 certified speakers with new models currently under certification, which will provide more versatility in terms of power, design and competitiveness.
Finally, Intersec, ISE and SICUR will serve as a showcase for the new version of the SIME software, the proprietary platform for the control, configuration and management of the public address and voice alarm systems manufactured by LDA. The app will be completely renewed, with an updated interface that will improve the user experience and functionalities.
Intersec will be held in Dubai from January 16 to 18, 2022, followed by SICUR in Madrid, from February 22 to 25, Securika in Moscow, from April 12 to 15, and ISE in Barcelona, ​​from May 10 to 13.