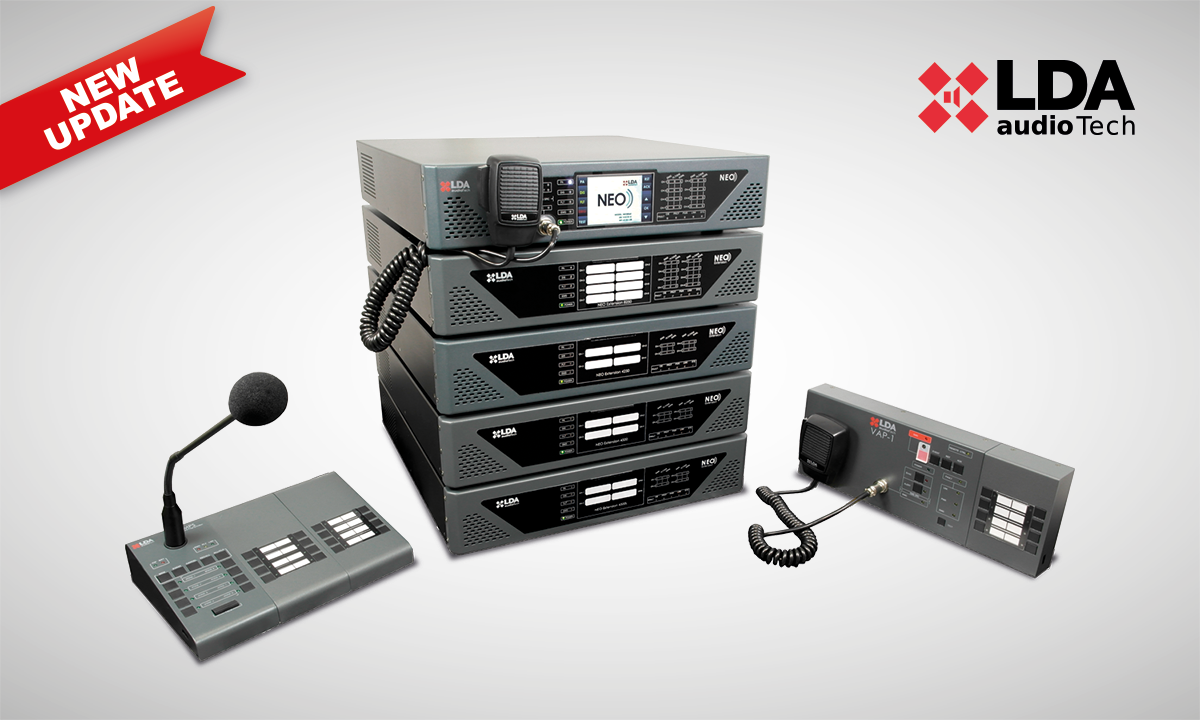 19 Feb

NEO FIRMWARE UPDATE – FEBRUARY 2021

LDA NEO system renovates itself from within with the long-awaited firmware update loaded with many exciting new features and upgrades.

Now available from LDA Support Website:

NEO Configurator v0.2.5.4 supports the following firmware versions:
NEO Firmware vXX.28.XX.30 (February 2021)
NEO Firmware vXX.27.XX.29 (September 2019)
Older firmware versions can be updated to the latest version also with NEO Configurator v0.2.5.4.
WHAT'S NEW?
1. IMPROVED SPEAKER LINES IMPEDANCE SUPERVISION SYSTEM
A+B wiring supervision is improved: faults in each A+B branch are now detected independently.
New Class-A mode: now you can make a loop from output A to output B, so in case of open circuits, you will be able to keep the audio in the whole speaker line.
The whole calibration and supervision system has been improved.

2. NEW PROTECTION SYSTEM FOR SPEAKER LINES
NEO already had 2 integrated protection systems: one within the amplifier hardware and another that was constantly checking the voltage and current levels before and after the amplifier. Now we have added a third new protection system based on the impedance supervision.
The new protection system is enabled when you are supervising the speaker lines with a TFL2 (impedance method), either as single line, A+B wiring or Class-A. If the system detects a short-circuit or an earth leakage, only the faulty branch will be completely disconnected from the amplifier. This will protect the hardware of NEO even more.
3. UNIFIED PA/VA VIEW IN NEO CONFIGURATOR
We have unified the traditional PA view and VA view of NEO Configurator in a single PA/VA view for simplicity and ease of use. This will improve greatly the experience of configuring a NEO system.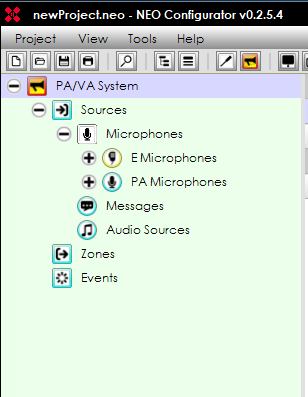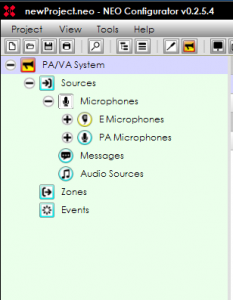 4. NEW EVENTS EDIT MODE IN NEO CONFIGURATOR
In order to improve the configuration of events and the communication protocol with NEO, we have changed the operation of the event manager. Now events can only be edited when turning on the EVENTS EDIT mode.You will be able to create and edit all the events you need from your computer and when you are finished, all the changes you made will be uploaded to NEO directly at once. If you made any mistake, you can always cancel any changes and recover the actual configuration from your NEO system.


5. IMPROVED LOGS VISUALIZATION FROM NEO CONFIGURATOR
Now you can see all the logs of a NEO system directly from NEO Configurator and save them easily as a TXT file in your computer.

6. AND MANY ADDITIONAL TWEAKS
Separate PA and VA volumes for ACSI devices.
New option to automatically activate VA volumes in a Zone when calling to it from an MPS8Z microphone.
Improved the accuracy of the internal clock.
A lot of bug fixes and optimizations.
UPDATING ADVICE
We recommend saving the project configuration and export the events in backup files before updating the firmware.

Before updating NEO to the latest firmware, you need to install the latest NEO Configurator v0.2.5.4. We recommend uninstalling any previous version of NEO Configurator before installing the new version.

All NEO devices in the same system should have the same firmware version. You should not connect together NEO devices with mixed firmware versions.

This firmware update is completely optional: you only need to update to firmware vXX.28.XX.30 (February 2021) if you need any of the new features.

You can update a NEO system with firmware vXX.27.XX29 (September 2019) to firmware vXX.28.XX.30 (February 2021) safely. All the configuration parameters will be maintained, and it will not be necessary to reconfigure anything.

Project files created for firmware vXX.27.XX.29 (September 2019) and NEO Configurator v0.2.4.3 are fully compatible with NEO Configurator v0.2.5.4 and can be loaded in devices with firmware vXX.28.XX.30 (February 2021).