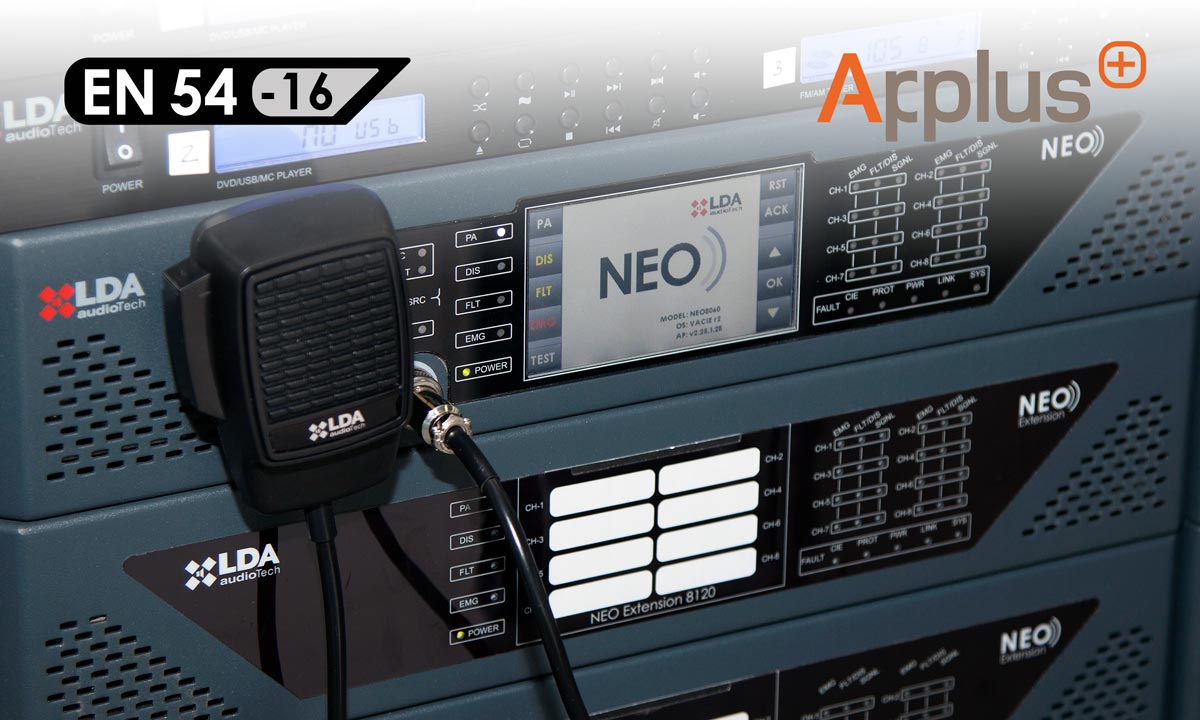 12 Mar

The LDA NEO series renews EN 54-16 certificates with Applus+

LDA Audio Tech has renewed with the international notified body Applus+ the EN 54-16 certificates for the NEO series, public address and voice alarm equipment that meet the requirements for detection systems, fire alarm and voice evacuation.

The follow-up audit to renew the certification has been carried out by Applus+ following its impartiality, independence and integrity philosophy that makes them one of the most reputable notifying bodies in the world. This guarantees the maximum performance of NEO solutions in terms of active fire safety.

Both the NEO-8060 main unit and its NEO-8250E, NEO-4250E, NEO-4500E and NEO-4500LE extensions have passed all tests and therefore continue to fully comply with the EN 54-16 standard and the requirements of the Construction Products Regulation (EU) 305/2011.

This is the LDA NEO system

The international reputation of an EN 54 certificate within the industry is key for installers and integrators since it is the main guarantee to know that the manufactured product will offer the maximum performance and will meet the strictest requirements in terms of safety, construction and performance.

In this case, Applus+ is one of the world's leading companies in the inspection, testing and certification sector, widely recognized and with a deep knowledge of international standards that regulate the market.
THE NEO SYSTEM
NEO is an EN 54-16 certified public address, background music and voice alarm system, compact and all-in-one, which allows quick installation using a single device.
Designed for medium and large installations, NEO offers advanced functionalities while reducing time and costs thanks to its plug-and-play philosophy, which facilitates system installation, maintenance and operational procedures.
NEO includes 8 class D amplifiers for 8 independent audio zones with a 40×1024 audio matrix, dual player for pre-recorded messages, digital quality with DSP system and 7-band parametric equalizer.
Thanks to its extensions, NEO can reach up to 1024 zones in a system with 128 stations. NEO is compatible with Ethernet, Flexnet and RS-485 standards.
THE EN 54 STANDARD
The EN 54 harmonized technical standard not only applies in the European Union but has become a de facto international standard due to the strict EC certification scheme for marketing this kind of product.
The EN 54 series of European standards for detection systems, fire alarm and voice evacuation covers three different groups: for central voice alarm control (EN 54-16), for loudspeakers (EN 54-24) and for power supply audio equipment (EN 54-4).
LDA Audio Tech offers integrators and installers a complete range of solutions fully adapted to the EN 54 standard, including the NEO series, loudspeakers and accessories.
Download the NEO documentation