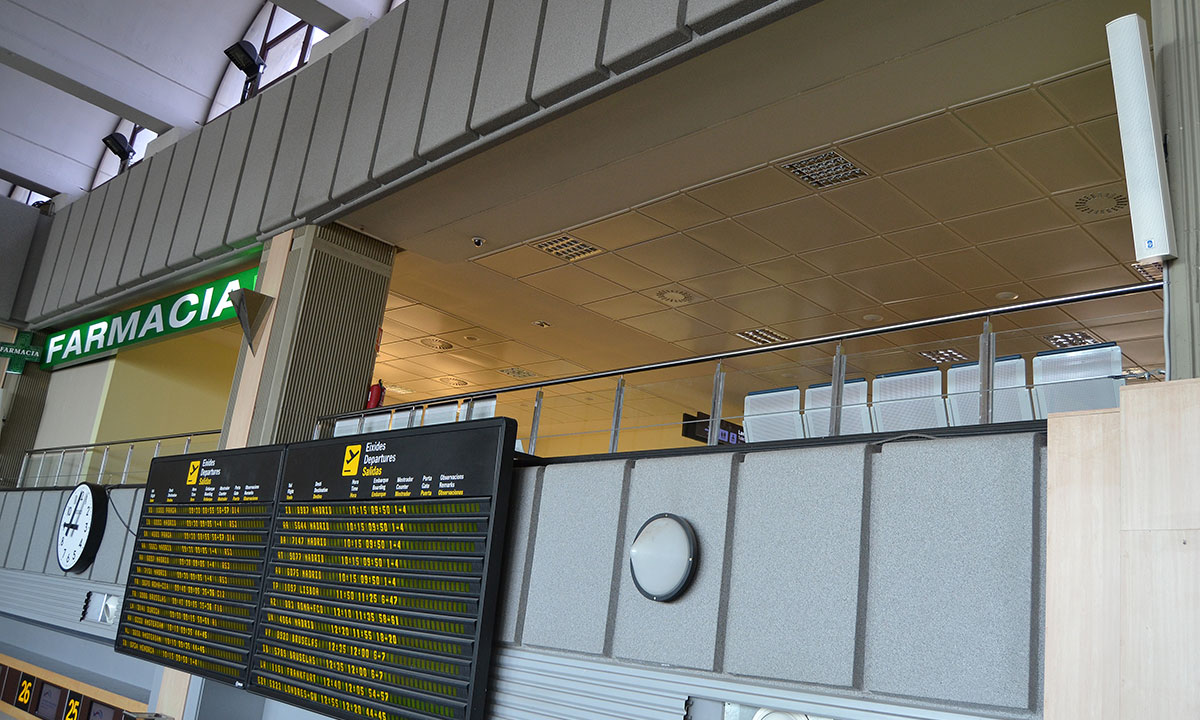 26 Oct

LDA and Renkus-Heinz guarantee clear and transparent sound in any installation

Public address and voice alarm installations in large venues demand the most transparent sound in any circumstance. To achieve this, LDA Audio Tech offers the highest quality in every element of the system, made both by LDA and international prestigious manufacturers such as Renkus-Heinz.

LDA is a distributor of this North American brand, specializing in high-performance speakers and world leader in the field of public address and distributed audio.

Projects such as metro stations, airports and large corporate venues require eliminating reflections, minimizing reverberation, and ensuring clarity even with large crowds of people and ambient noise. To achieve this, LDA Audio Tech develops EN 54-certified solutions for public address and voice alarm systems through innovation.

First of all, LDA carefully studies each installation's needs and carries out acoustic studies with EASE simulations. With that information, we design the most suitable solution using reliable and high-tech components.

And one of the key points in a sound installation is to pick up the loudspeakers, along with audio distribution and network configuration. LDA offers a wide range of own-brand speakers, some of them EN 54-24 certified, to engineers and installers who have different needs for their projects.

In addition to that, LDA Audio Tech is a distributor of Renkus-Heinz in Spain and can provide its specialized loudspeaker solutions for complex acoustic environments. More specifically, Renkus-Heinz's steerable array column speakers provide tighter beam control and boost intelligibility.
Guaranteed clarity and transparency
Renkus-Heinz's speakers fit with places of worship, railway stations, auditoriums, sports centers and conference halls. They offer clear and natural sound with enough power to cover all areas in a scalable way with modular and stackable loudspeakers that are cost-effective.
IC7-II and ICX7-II and ICONYX Gen5 steerable line array systems are the most popular products in Reinkus-Heinz's broad range. These solutions guarantee faultless audio distribution in complex environments with high reverberation, thanks to its precise sound beam and digital control of frequency and volume.
Successful projects
Some of the LDA Audio Tech's projects where Renkus-Heinz columns have been used are Valencia Airport and Metro de Málaga in Spain, Metro Riô in Brazil and Baladna Farm in Qatar.
For transport networks, steerable array columns are highly effective because they ensure the correct transmission of messages in all kinds of situations, especially during an emergency, where the LDA EN 54 certified voice alarm systems can guarantee safety and avoid problems during an evacuation.
In large-scale corporate complexes with different buildings working together, such as Baladna in Qatar, LDA's centralized public address systems provide all needed control to program and broadcast background music and custom messages clearly and on time through Renkus-Heinz's loudspeakers.
With four decades of experience, LDA Audio Tech is one of the world's leading manufacturers of audio, public address and voice alarm systems for evacuation. We manufacture all-in-one solutions for public address and voice evacuation, in addition to loudspeakers, amplifiers, microphones, alarm panels and all kinds of accessories for installers, engineers and integrators.
LDA is also a distributor in Spain of audio and security components for international brands, such as Renkus-Heinz. Winner of numerous awards and holder of multiple patents worldwide, this North American company has developed huge innovations in loudspeakers and amplifier manufacturing that have become international standards.