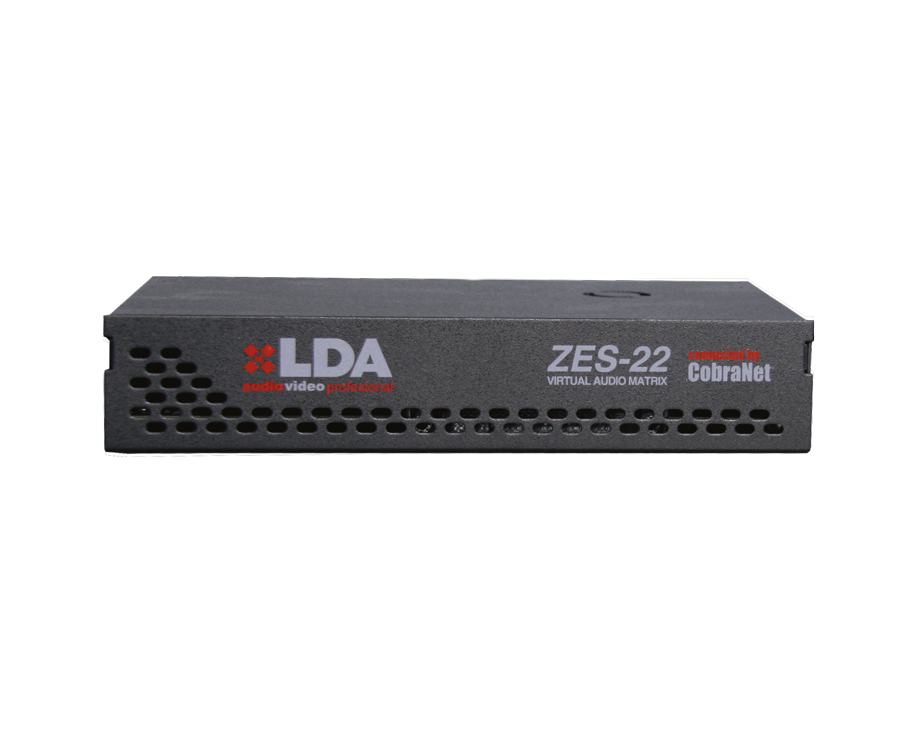 The digital audio processor ZES-22 is a Digital Audio Matrix that offers advanced features for any type of audio installation.
The ZES-22 is a flexible equipment with 4 balanced audio ports that can be configured as imputs or outputs according to the needs of the installation: (2×2), (4×0) or (0x4). The ZES-22 has digital audio input by Ethernet through COBRANET ® protocol including redundant Ethernet interface, which offers the possibility to design distributed audio systems. This digital audio matrix allows optical fibre adapters for sending and receiving data through large distances.
The ZES-22 has an integrated Digital Signal Processor (DSP) and offers parametric equalization, filters, compressor, level control, etc.
The ZES-22 is ideal for networked emergency purposes and only occupies ½ rack unit of widht. It offers the possiblity to unite two ZES-22 in order to have double functionality and occupying just 1 rack unit of width.
Main Features
Local audio Matrix of 2×2 I/O (optional configuration in factory)
Audio transfer by COBRANET ® protocol.
High performance DSP
Analogical step of gain. They are eligible for each channel in order to improve the signal/noise ratio.
Remote and local configuration.
Remote and local supervision.
Graphic interface for remote configuration. Easy operation (GUI).
Supply by PHANTOM to microphones.
Datasheet, manual, certificates and other technical documents