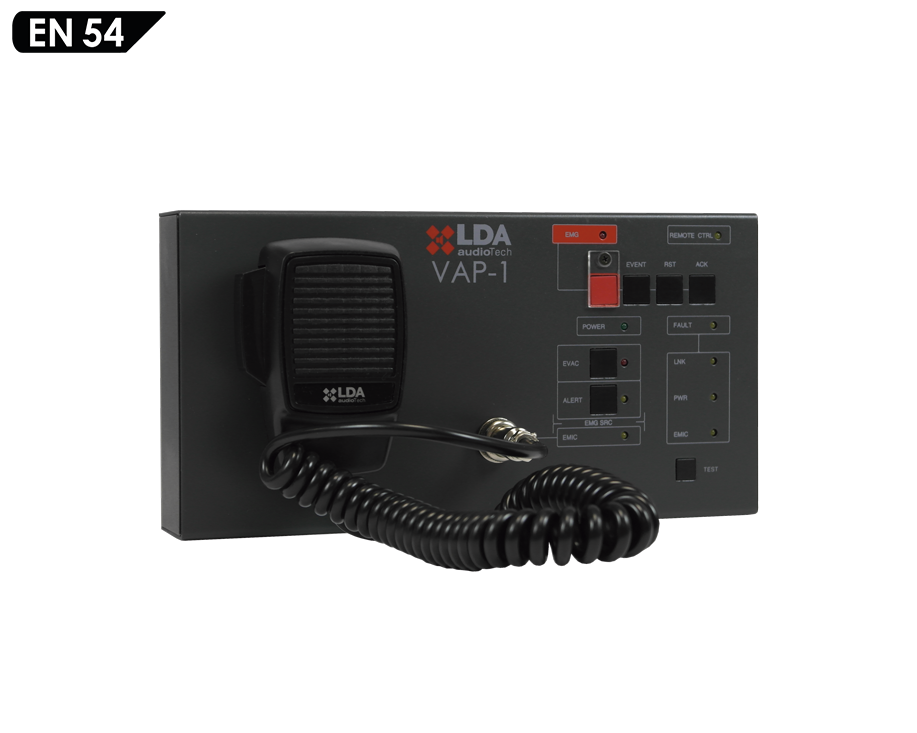 The Voice Alarm Panel VAP 1 is designed to provide NEO with evacuation system controls for different areas.
It allows to know the condition of the system and broadcast both live and pre-recorded alarm and evacuation warnings through up to 56 selection memories of evacuation zones.
This is possible because it can equip up to 7 expansion keyboards with 8 zone memories each one. Moreover, expansion keyboards available allow it to adjust to the special features of each system.
The equipment also offers the chance to choose the source of the power supply between local or supplied through the ACSI bus. The ACSI bus allows a maximum total wiring of 1000m (914.4 yrd) and offers priority levels for the devices connected in bus mode.
It has functions such as volume control, dynamic sound adjustment and programmable buttons that allow other system functions such as pre-recorded messages broadcasting.
It has a metallic chassis that provides stability and protection against damage. All the buttons are designed for instensive use.
The VAP-1 includes an Event button to automatically launch VA events pre-configured in NEO Configurator.
Main Features
Up to 56 group memories of up to 8 zones per memory (448 zones of the system).
VA Event launcher
Prior notice tone
Volume adjustment
Indicators for: Power supply, General Emergency state, General Fault condition, Link with system,  Power supply fault, Emergency microphone fault.
Broadcasting of voice evacuation message and pre-recorded message indicator
Broadcasting of voice evacuation recorded message indicator
Remote control indicator
Emergency controls, Reset, Acknowledge, Test, Alarm message, Evacuation message
Side port to connect up to 7 expansion keyboards
Priority configuration and operating parameters
Local or peripheral power supply
Wall or 19" rack installation
Datasheet, manual, certificates and other technical documents