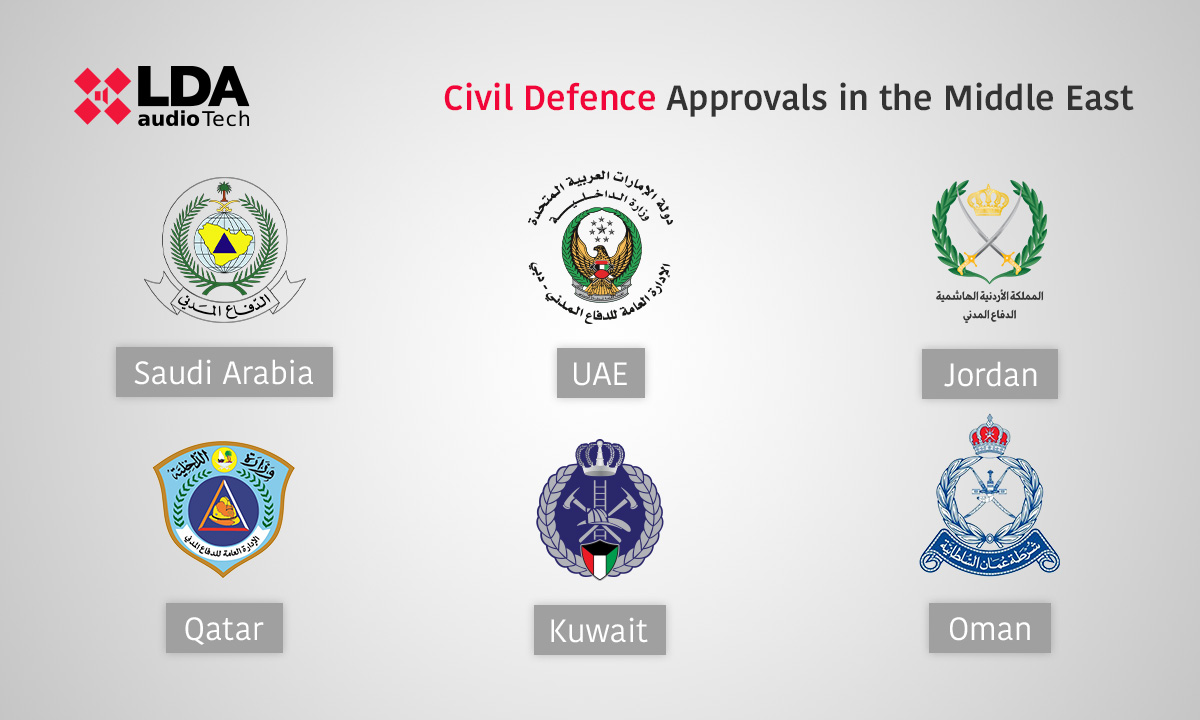 27 Sep

Civil Defence approvals: ensuring safety for LDA systems in the Middle East

Civil Defence approvals play a crucial role in ensuring the safety of public address and voice evacuation systems sold and installed in the Middle East. Find out what they are and how LDA Audio Tech provides this additional quality guarantee in these countries.

The main purpose of Civil Defence organizations is to safeguard the population, as well as to protect buildings and the environment. They are public organizations and therefore directly dependent on each government.

Countries such as Saudi Arabia, Qatar, the United Arab Emirates (UAE), Jordan, Kuwait, and Oman manage their Civil Defence through their respective ministries and directorates of interior and defense to ensure that all facilities related to public safety meet the requirements according to their regulations.

These bodies are responsible for issuing specific approvals that certify compliance with rigorous standards for the protection of buildings and people.

From the point of view of manufacturers and installers of fire protection systems, Civil Defence approvals focus on three key aspects: products, companies, and projects.
Products approved by Civil Defence
Civil Defence verifies that products meet the necessary safety standards and registers them in its database. For these evaluations, they use certificates issued by notified bodies, and in certain cases, they review tests carried out by laboratories. In particular situations, samples of the products are requested to perform the relevant verifications.
LDA Audio Tech has its public address and voice evacuation systems certified under the international EN-54 standard, with certifications issued by the international notified body Applus+.
Specifically, the NEO and ONE systems are EN 54-16 certified for voice alarm control and indicating equipment. In addition, ONE is also certified to EN 54-4 for power supply equipment, as it has an integrated battery.
As for the loudspeakers, all models designed and manufactured by LDA Audio Tech are certified under the EN 54-24 standard, specific for this component of voice alarm systems.
Civil Defence for companies and projects
For installation companies, Civil Defence establishes a rating based on various criteria such as the number of engineers and technicians, as well as the number of projects executed. In addition, the individual rating of technicians and engineers is assessed based on their training and courses received, among other factors.
Regarding the projects, Civil Defence reviews the design to give its approval before installation. Once installed, it appears at commissioning to verify that the installation has been carried out in accordance with the required safety codes and standards.
During these tests, all critical components are examined, from the fireproof wiring to the pre-recorded evacuation and alert messages, including redundant power. To do this, they disconnect the equipment from power and, the next day (24 hours later), return to check that the system is capable of evacuating effectively for at least 30 minutes.
In the United Arab Emirates, moreover, each emirate has its approval requirements. Manufacturers must choose an agent who represents them exclusively with Civil Defence and who is responsible for verifying both the design and commissioning of any project executed in the country, either by the agent himself or by any separate system integrator.
LDA Audio Tech's Civil Defence approvals
LDA Audio Tech meets the requirements established by Civil Defence in the following countries:
This means that public address, background music, and voice evacuation systems manufactured by LDA Audio Tech can be marketed and installed in these countries as they comply with all Civil Defence requirements.
These approvals are not only a guarantee of security, but also a seal of quality backed by decades of experience in the field of audio, public address, and voice alarm systems.
If you are interested in learning more about our Civil Defence approved security solutions in the Middle East, please contact our sales team in the region. We look forward to working together, we are here to provide you with the information and assistance you need to carry out your projects with the maximum guarantee of security and quality.