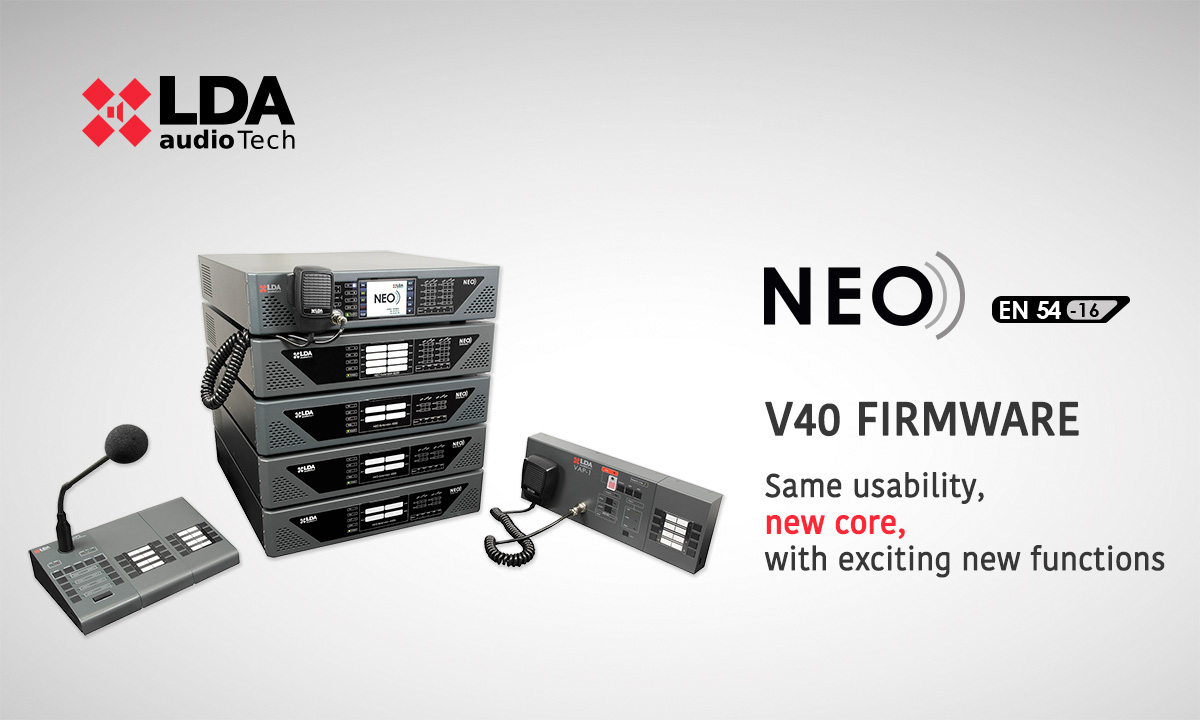 30 Aug

New NEO firmware v40: same usability, new core, with exciting new functionalities

NEO, our high-performance EN54 public address, background music and voice evacuation system, takes a step into the future with the development of its new firmware v40. This major upgrade involves the complete renewal of its internal core, keeping the same usability and adding new features that improve its versatility.

Download the latest NEO firmware ↗

Thanks to the firmware v40, NEO will support new functionalities coming to NEO now and in the future, including our upcoming new range of PA microphones and voice alarm panels.

This firmware update is released together with a new version of NEO Configurator:

See technical notes NEO v40

These are the main new features included in the new firmware v40 for NEO:
An improved PA & VA core.
Support for ACSI v2, our new communication protocol.
New configuration options for ACSI devices.
New equalization options.
New feature: groups of zones.
Many additional tweaks.
1. IMPROVED PA & VA CORE
Sometimes the biggest changes are invisible to the eye. In NEO v40 we reprogrammed from scratch the internal core of NEO, applying all our accumulated experience to improve even more the security, reliability, and fluidity of the system.
In this process, we have been able to optimize the internal code, so we could introduce even more features to the system. Many of them are available now with this release, but some others will be coming in future firmware updates.
2. ACSI v2 SUPPORT
We have been working hard to prepare NEO for the future and one important step has been renovating and upgrading completely our proprietary communication protocol: welcome to ACSI v2.
ACSI v2 is bringing to NEO connectivity with all our future range of PA microphones, voice alarm panels and NEXO, coming soon in 2022 and early 2023.
Below are some of the exciting new features arriving in this new range of products:
Support to up to 32 devices (PA microphones or voice alarm panels) connected to the same NEO.
Ethernet support for our PA microphones and voice alarm panels (digital connection).
AES67 digital audio support in layer 3.
Full control and monitoring of the status of each emergency zone, one by one.
Store & Forward functionality for our PA microphones.
Advanced integrations with 3rd party systems via NEXO, using a new open protocol, even more versatile and complete than before.
It's important to keep in mind that all ACSI devices connected to NEO must have the same firmware version. It is not possible to combine ACSI v1 devices with ACSI v2 devices in the same bus.
3. NEW CONFIGURATION OPTIONS FOR ACSI DEVICES
ACSI Devices (PA microphones or voice alarm panels), either v1 or v2, include now new configuration options directly from NEO:
Volume level control of ACSI devices from NEO.
Possibility to customize the ACSI devices' priority independently from the ACSI bus address.
Possibility to supervise PA microphones from NEO.
Possibility to disable the Plug & Play mode in the ACSI bus, so microphones that are not installed manually cannot be used in the system.
4. NEW EQUALIZATION OPTIONS
Introducing new DSP equalization filters for our audio inputs and outputs, including:
Peaking.
Low/High Shelf.
Low/High Pass.
LP/HP Butterworth.
IIR Coefficient.
And in NEO4250E and NEO4500E a new delay function in every channel with up to 144 ms of delay per device.
5. NEW FEATURE: GROUPS OF ZONES
With the new NEO firmware v40 we can create groups of zones that can be assigned to the buttons of PA microphones and voice alarm panels.
With this new feature, the limitation of 8 zones per microphone button is removed and now you can assign unlimited zones to one button.
6. ADDITIONAL TWEAKS
Easy all-call automatic function in frontal PTT mic.
Improved logs visualization in the frontal screen.
Speaker line supervision tone is now set by default at 20 kHz.
Improved AC and DC power supply monitoring.
Improved behaviour of GPIO actions in events.
A lot of bug fixes and optimizations.
If you have any questions about our NEO systems, NEO Configurator or this new release, contact our Support Team, we are happy to help you.
Contact LDA Support
IMPORTANT NOTICE:
• NEO firmware v40 is an OPTIONAL upgrade. We do not recommend upgrading previously working NEO systems to firmware v40 unless you need the new functionalities.
• Upgrading from older firmware versions to firmware v40 will always cause a Factory Reset in the system (all custom configurations will be reset).
• It will be possible to export NEO Configurator project files created from older firmware versions into NEO firmware v40, but some parameters regarding microphones configuration will be lost.
• Existing NEO systems with older firmware versions should not be upgraded to firmware v40, but to firmware v30.
• In new NEO projects we recommend always updating all NEO devices to firmware v40 before configuring the system.
ABOUT FIRMWARE v30:
We will continue supporting legacy NEO installations with our firmware v30 and its subsequent updates (for minor updates only). From now on, firmware v30 and firmware v40 will coexist simultaneously:
Firmware v30: Support for legacy NEO systems (installed before August 2022).
Firmware v40: Brand new firmware for all new NEO systems (installed after August 2022).
We highly recommend updating all existing NEO systems to firmware v30 (v2.30.XX.31). This update greatly increases the durability and security of the system.
We will continue providing support for both firmware v30 and v40 simultaneously in the coming years.
All NEO devices in the same system should have the same firmware version. You should not connect together NEO devices with mixed firmware versions.
ABOUT THE NEW NEO CONFIGURATOR:
NEO Configurator is the software that we use to configure and commission all our NEO systems (available to download for free on our Support Website).
Just like with NEO firmware, from now on 2 different versions of NEO Configurator will coexist:
NEO Configurator v2.40.0.0 for Firmware v40.
NEO Configurator v2.30.0.0 for Firmware v30 and all older firmware versions.
See details in the box below.
Both NEO Configurator v40 and v30 can be installed on the same computer.
NEO Configurator v2.40.0.0:
Can

only

connect to NEO with firmware v02.40.XX.40.
Can open

any

project files, including older files created with previous firmware or NEO Configurator versions.
NEO Configurator v2.30.0.0:
Cannot

connect to NEO with firmware v02.40.XX.40.
Can connect to NEO with

previous

firmware versions, including:

NEO Firmware v02.30.XX.31 (March 2022).
NEO Firmware v02.29.XX.30 (June 2021).
NEO Firmware v02.28.XX.30 (February 2021).
NEO Firmware v02.27.XX.29 (September 2019).

Can open

older

project files, but will

not

open project files created with NEO Configurator v2.40.0.0.