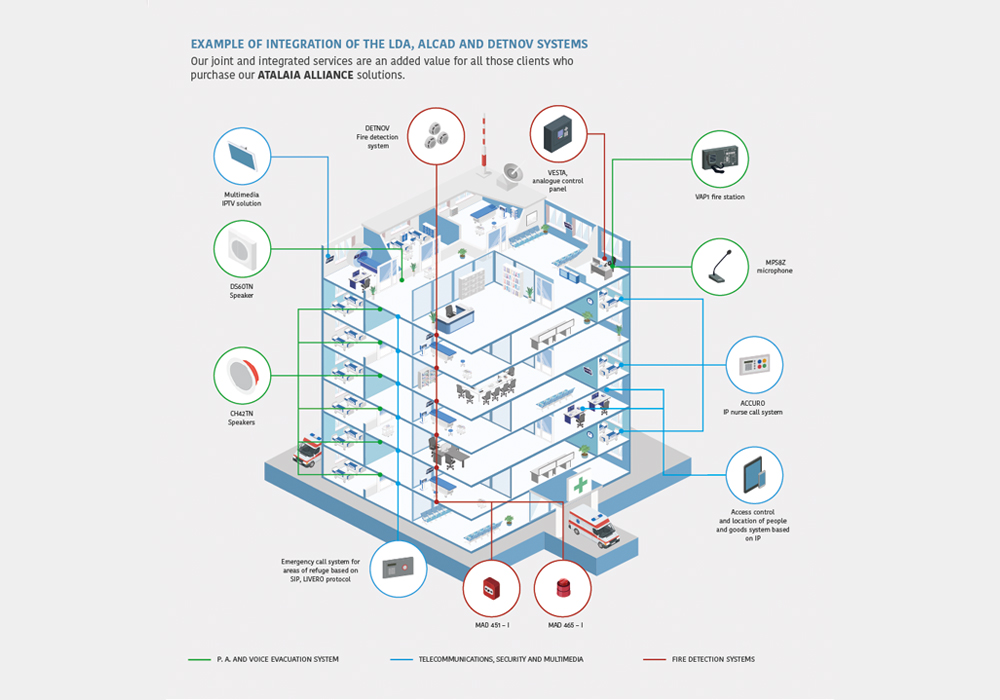 28 Apr

Smart Buildings, safety as the standard

In recent years, the rise of so-called Smart Buildings has presented great challenges, not only for companies, but also for designers and planners, especially in the area of security. Proper planning can help network and building designers to prevent safety risks and to better cope with future problems. The full integration of LDA's voice evacuation systems with those of ALCAD, manufacturer of products for the reception and distribution of TV signals, access control and communication solutions, and DETNOV, manufacturer of fire detection mechanisms, guarantees an optimal response in the event of an emergency at both detection and evacuation levels.

In an increasingly advanced world, in which technology plays a fundamental role in our daily activities, the concept of intelligent buildings is gradually gaining ground.  It can be said that a building is considered intelligent when it provides an automated and immediate response to such essential issues as security, energy efficiency, maintenance and specific operations (lighting, heating, air conditioning, ventilation and access), among others. Of course, all within the framework of current regulations and in compliance with quality standards.

Smart buildings include all types of constructions, such as healthcare, cultural, logistic, leisure, commercial, public or private administration, industrial infrastructures, etc. Any building can be "smart" if it has enough automated mechanisms to control the different aspects mentioned above immediately and remotely.  For this reason, the projects and construction of smart buildings are developed by multidisciplinary teams with specific profiles: telecommunications engineers, industrial engineers, technicians and architects, of course. All in order to integrate technological devices into the structure of the building and always use the most efficient elements.

But we want to emphasise a specific aspect of this type of property; security.  Nowadays, owners and developers are faced with the need to effectively adapt the way in which the evacuation of a facility is controlled in the event of an emergency. In fact, it is essential that companies are innovating every day to increase security systems and make them totally flexible to the types of infrastructures in which they are located, something in which we at LDA are leaders, as we put our team at the disposal of our clients to meet their specific needs, adapting our systems to each approach.

The evacuation of a building is always complex and must be carefully studied, especially in large areas where users are not familiar with the location of exits and procedures. Just signage is not enough, even though it must also be in place, It is also necessary to effectively shape the sound and even visual systems in order to achieve a quick and orderly exit. Moreover, in places with a large number of people, not having an intuitive emergency system, which in times of panic can be easily understood by people, can cause even more of a problem than the incident that triggered the emergency.

A strategic alliance
Thus, we can say that the integration of LDA's systems with those of ALCAD (manufacturer of products for the reception and distribution of TV signals, access control and communication solutions) and DETNOV (manufacturers of fire detection mechanisms) is the best system on the market to achieve a safe evacuation. A perfect union.

This new strategic alliance positions LDA, DETNOV and ALCAD as the best solution for the creation of an integrated access control, fire and emergency management and evacuation system. Our union is consolidated on very solid foundations, focused on technological synergy. We are Spanish companies, based on innovation, with technology designed and manufactured in Spain, with products that meet the strictest European standards; providing added value based on functionality.
We are committed to creating joint product development lines, building commercial and logistical synergies for large projects, as well as for joint promotion and attendance at trade fairs. By combining our services, capacity for innovation and adaptation, we guarantee maximum security for our customers.