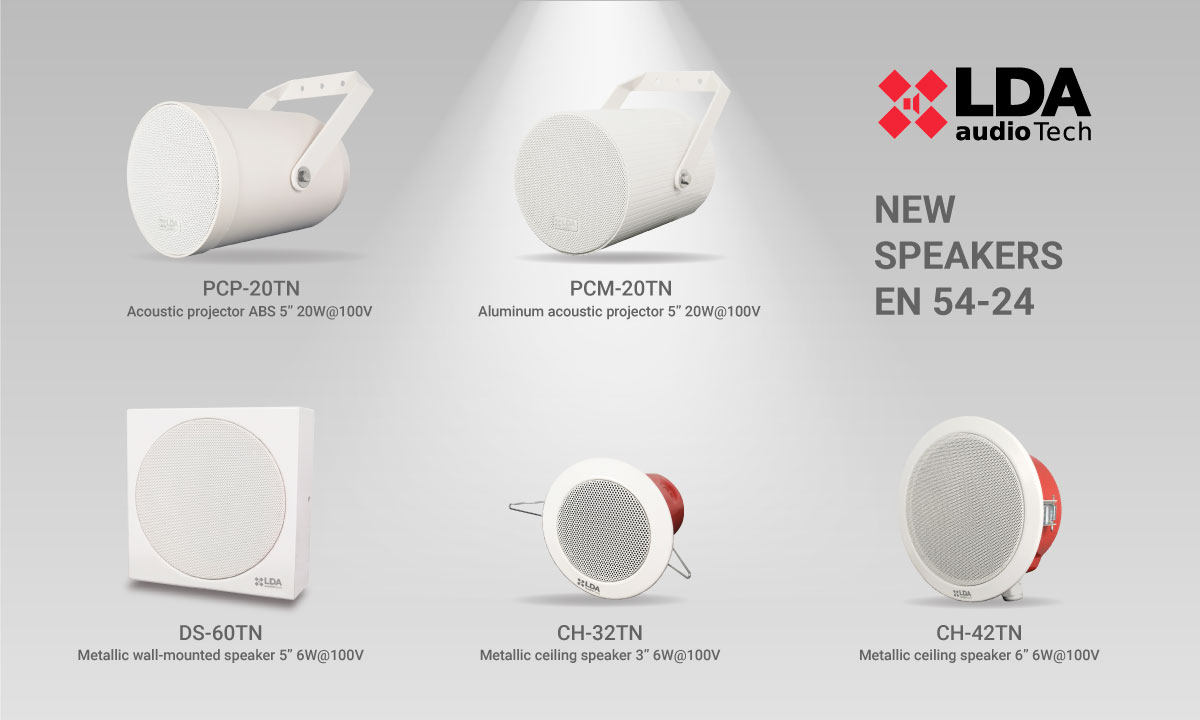 30 Jul

Speakers: LDA Audio Tech launches new exclusive EN 54-24 models

Reliable, high quality in materials and acoustics and with excellent performance in terms of cost and effectiveness. This is the new series of LDA Audio Tech EN 54-24 certified speakers, which is launched on the market with the aim of becoming the most profitable option for public address and voice evacuation installations around the world.

The range of certified speakers of the Spanish brand grows with five models. These are acoustic projectors, ceiling speakers, wall-mounted and surface speakers that offer excellent acoustic quality in voice messages for any small, medium or large installation. All of them provide an exceptional sound pressure level (SPL) in any environment.

Get your sample

The new models are exclusive to LDA Audio Tech. They have been fully designed and developed in Spain, meeting the needs detected in the international market in recent years.

The quality control has been exhaustive, both internally with the brand's own protocols, and independently through the notified body Applus+ Spain, which is globally recognized and valid for Civil Defense in the Middle East, a key market for LDA Audio Tech.
Versatile and cost-effective models
The CH-32TN model is one of these new developments. It is an ideal ceiling speaker for office environments, with 3" and metal body for 70/100 V lines, whose small dimensions allow it to be installed in false ceilings with little depth. The CH-32TN has a fire protection dome and allows easy mounting thanks to its built-in springs. It offers 3W/1.5W/0.75W/0.375W @70V and 6W/3W/1.5W/0.75W @100V power taps.
Another new loudspeaker is the PCP-20TN, a 5" acoustic projector, anti-vandal and weatherproof. Manufactured in fire protected ABS V0 enclosure, it is the ideal choice for installations where the durability of the elements prevails: transport networks, outdoor projects, and so on. It has 10W/5W/2.5W/1.25W @70V and 20W/10W/5W/2.5W @100V connections.
The rest of the models (CH-42TN, DS-60TN and PCM-20TN) are relaunched now keeping the same name in the catalog but as completely renewed products: more modern, with better sound and the best possible balance between price and quality.
The CH-42TN ceiling speaker has a 6" driver and metal dome that provides the necessary protection for the circuit in case of an emergency. Its range of connections covers 3W/1.5W/0.75W/0.375W @70V and 6W/3W/1.5W/0.75W @100V.
The DS-60TN is a 5" surface speaker suitable for both ceiling and wall mounting. Its metal casing protects it from fire and vandalism, while providing maximum ease of installation. It has 3W/1.5W/0.75W/0.375W @70V and 6W/3W/1.5W/0.75W @100V connections.
Finally, the PCM-20TN acoustic projector has a 5-inch driver in an aluminum case with a steel grille, making it a must-have item for demanding environments in terms of use and durability. It facilitates installation thanks to its adjustable tilt U-bracket, and has connections of 10W/5W/2.5W/1.25W @70V and 20W/10W/5W/2.5W @100V.
The new models incorporate ceramic terminal and isolation fuse to prevent failures in the circuit to which they are connected. Thus, maximum integrity, reliability and safety are achieved in case of an evacuation, to guarantee that the alarm message will be issued correctly and will reach all users.
| | | |
| --- | --- | --- |
| Model | Description | EN 54-24 Certificate |
| CH-32TN | Ceiling speaker 3″ 6W@100V | Download |
| CH-42TN |  Ceiling speaker 6" 6W@100W | Download |
| DS-60TN | Wall-mount loudspeaker 5" 6W@100W | Download |
| PCP-20TN | Acoustic projector 5" 20W@100W ABS cabinet | Download |
| PCM-20TN | Acoustic projector 5" 20W@100W aluminum case | Download |