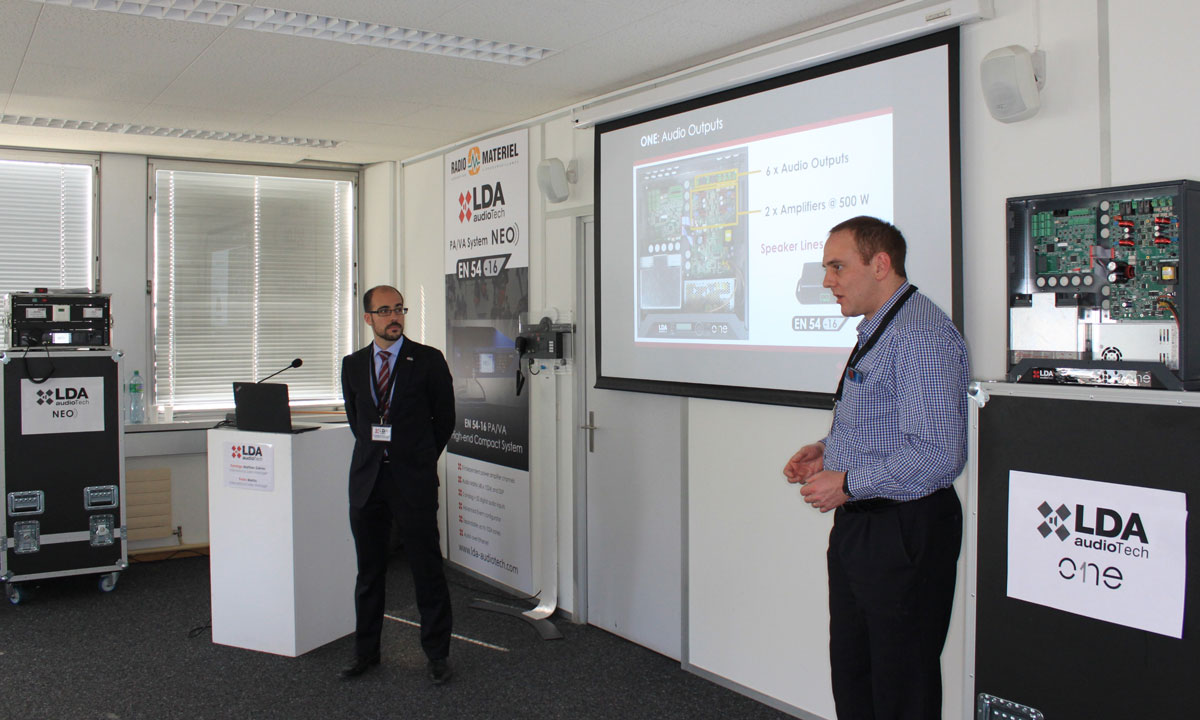 25 Apr

Great feedback from Swiss integrators for the new system ONE

The new LDA ONE public address and voice alarm system, EN 54 certified and designed for small and medium installations, was presented in Switzerland last March with very good vibes from professional integrators and installers in the Alpine country.

Our partner Radio Matériel's headquarters in Lausanne hosted a 45 minutes' seminar in which LDA Sales Engineers Pedro Martos and Domingo Martínez explained every feature and advantage of the new ONE, designed and manufactured in Spain by LDA Audio Tech.

About fifty professionals could learn about this new product that is expected to be launched in the first half of this 2018.

ONE aroused strong interest among all attendees, who highlighted its minimalist and compact design, its built-in charger/battery and, above all, its ease of use.

More info about ONE

The new ONE has two 500 W integrated amplifiers for two simultaneous channels in PA/BGM mode (300 W in PA/BGM/VA mode with line supervision), with a charger and a battery in the same unit. This makes it the perfect solution for compact installations, an all-in-one EN 54 certified public address, BGM and voice evacuation system.

The new NEO Control software was also presented in this Radio Matériel seminar. NEO Control is an auto-install application without a database and with a very easy interface to supervise LDA's NEO systems.

Attendees also exchanged information about NEO, the LDA Audio Tech's leading voice evacuation and public address system that already operates in hundreds of facilities around the world, providing them with a robust EN 54 certified solution to deal with any emergency situation.

Would you like to know more about our EN 54 certified public address and voice alarm systems? Contact us, it will be a pleasure to assist you.