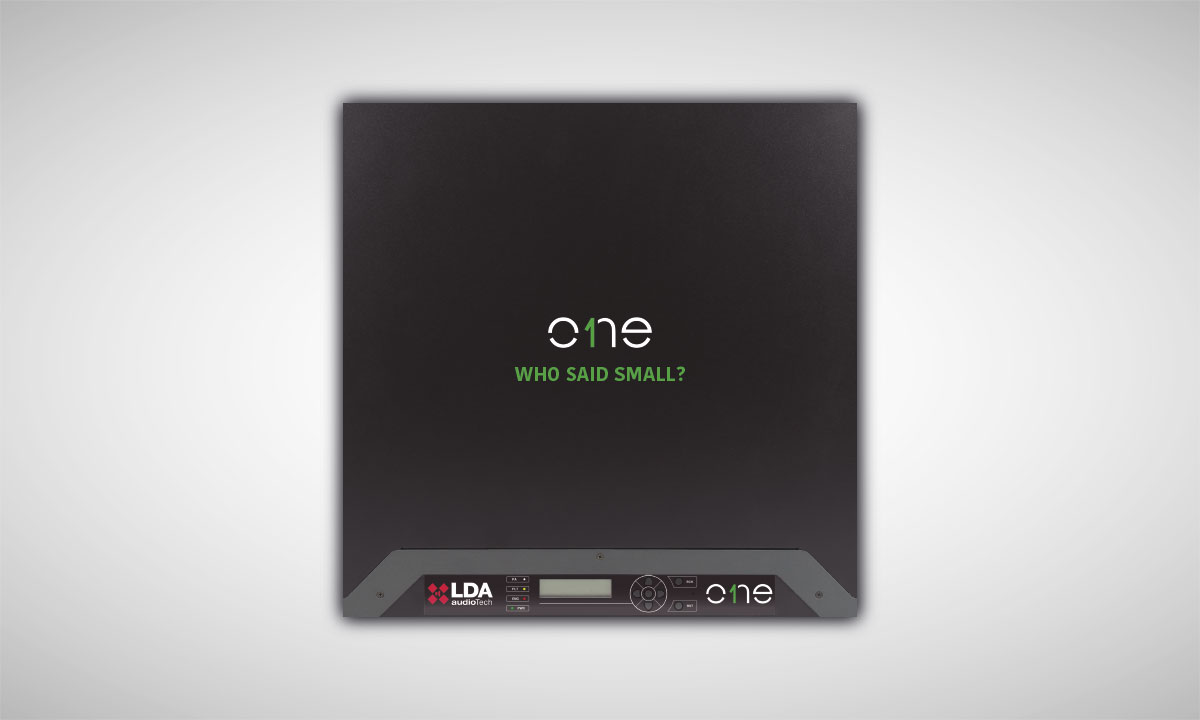 25 Jan

ISE 2018: ONE, the new compact public address and voice alarm system

LDA Audio Tech will launch ONE, its new compact public address and voice alarm system, at ISE 2018 from 6 to 9 February in Amsterdam. The new supervision software NEO Control will also be introduced there.

Integrated Systems Europe 2018 is the world's largest meeting of AV professionals, and LDA will participate for the sixth consecutive year to show its products side by side with the leading international AV and systems integration companies.

Download the LDA ONE brochure

The new LDA ONE is a public address and voice evacuation system designed for basic installations, EN 54 certified, cost effective and fully integrated in a compact unit, suitable for wall or rack installation.

The new NEO CONTROL software will also be presented at ISE 2018. It is an auto‑install application without a database, and is designed to control and supervise any NEO system. NEO is the flagship of the company, a public address and voice evacuation solution for medium and large installations that is present in more than 1,300 projects around the world.
ABOUT LDA ONE
The new LDA ONE will be available for sale from May of this year, but there will be a sneak peek at ISE 2018 to show its main technical features and competitive advantages to all professionals at the fair.
With maximum quality, a very reasonable price and 100 % made in Spain, LDA ONE offers all the power of two 500 W integrated amplifiers, one of them working as a backup, for 2 simultaneous channels in PA/BGM mode (300 W in PA/BGM/VA mode with line supervision), compared to the similar ranges of the competition that only include a 240 W amplifier. In addition, the LDA ONE includes charger and battery in the same unit, an industry first in this segment, where it is usually sold separately.
Thanks to these features, LDA ONE is the most suitable solution for compact installations that seek all the advantages of an all-in-one public address and voice alarm system with the demanding requirements of EN 54‑16 and EN 54‑4 standards for systems and speakers. Supermarkets, corporate buildings, retail and small hotels are some of the projects where ONE will be able to unfold its full potential in versatility and power.
Get the datasheet here
The new LDA ONE will have its own range of accessories to cover every need of integrators and installers. Besides the main unit, with 6 outputs, two 500 W / 300 W amplifiers and integrated charger, it will have a ONE Router (which adds 6 more amplification zones), a rackable cabinet for volume attenuators, volume control by zones, wall mounting and line terminator.
ONE can use LDA accessories that are also suitable for the NEO system, such as the MPS-8Z microphone with its MPS-8K extension keyboard for 8 zones, or the VAP-1 fire panel with its VAP-8K extension.
As for the ONE's scalability, although it is launched as a stand alone product, by the end of 2018 LDA will release a second version that will allow up to four units to be connected to each other. In the following phases of development, in 2019, it will be possible to connect the system to the Ethernet network to fully integrate with NEO and with a control software.
If you want to know more about ONE contact us and we get back to you.
We'll be waiting for you at ISE 2018
The largest systems integration show in the world will be held in Amsterdam from 6 to 9 February and LDA Audio Tech will be there with interesting news about PA/VA systems.
If you are interested, please schedule a meeting at our stand 7-H217 with the invitation code 911839.