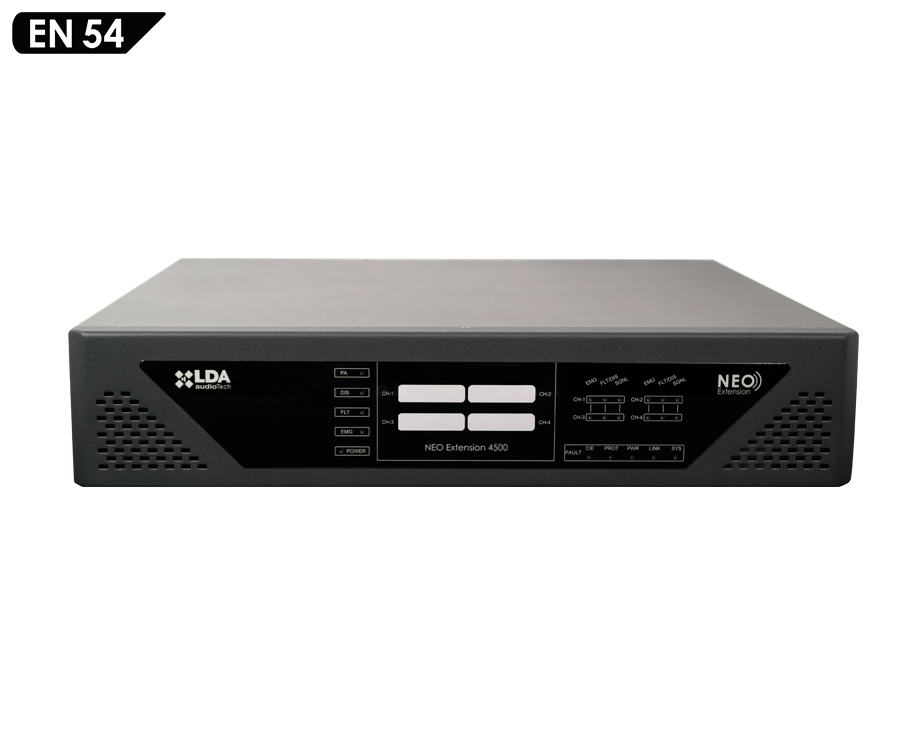 LDA NEO Extension 4500 is an extension controller and a 4x500W amplifier or 2x1000W amplifier for the compact EN 54-16 PA/VA system NEO.
This extension unit can scale the NEO system with 4 more zones as it includes 4 class D power amplifier channels at 100V or 70V lines.
Audio is transmited from the main unit to this extension unit via daisy-chain connection via FlexNet. Therefore it guarantees maximum quality and integrity.
The extension is fully configurable with the NEO-Configurator software (included with NEO). It is possible to configure remotely the unit as part of th whole NEO system and create events to perform actions in the system triggered by conditions of: input level, date&time, UDP command, a GPIO or button from MPS microphone.
Main Features
4 class D amplifiers of 500W or 2 amplifiers of 1000W for 100V/70V lines.
4 pre-amp outputs for external PA amplifiers connection.
DSP: 7-band input/output Parametric Equalizer, loudness, LDA sound enhancer, independent volume control per each output channel and audio filters.
Triple Ethernet port: for Digital Audio Cobranet, remote control and supervision, and for escalating the system with NEO-Extensions in daisy-chain mode with Flexnet techlogy (up to 1024 zones).
Control for up to 16 attenuators LDA AT6.
6 supervised contact relays for integration with Fire Alarm Control Panel.
Datasheet, manual, certificates and other technical documents